87% Sensitivity = Lives, Saved
As part of this study, 870 Emulate human Liver-Chips were utilized across a blinded set of 27 known hepatotoxic and non-toxic drugs and the Emulate human Liver-Chip was able to correctly identify 87% of the tested drugs that caused drug-induced liver injury in patients despite passing animal testing evaluations. These drugs that initially passed animal testing evaluations ultimately caused nearly 250 deaths and 10 liver transplants.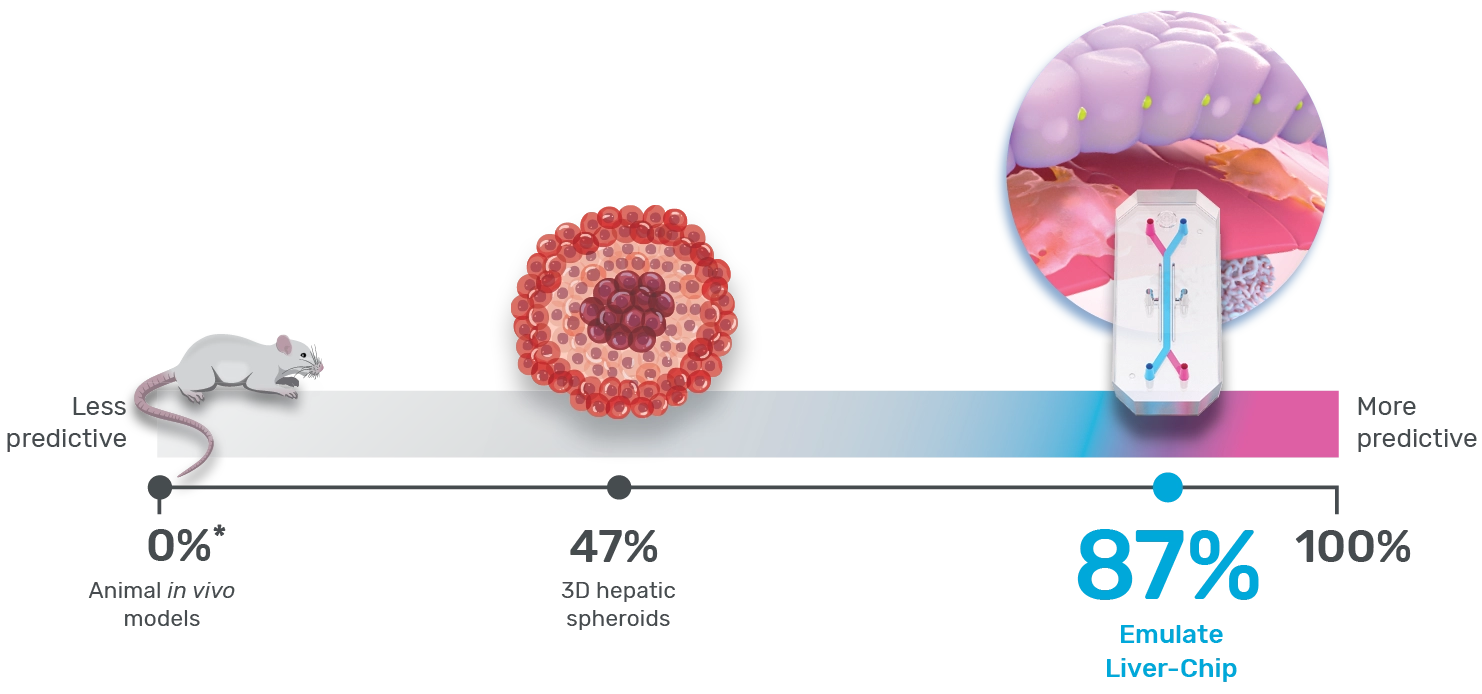 *Value associated with 27 drugs that caused DILI despite passing animal testing evaluations.
Source: Communications Medicine, part of Nature Portfolio, Performance assessment and economic analysis of a human Liver-Chip for predictive toxicology, December 2022.
100% Specificity = False Positives, Eliminated
The Emulate human Liver-Chip did not falsely identify any drugs as toxic leading to a 100% specificity and supporting its use in toxicology screening workflows. Researchers should employ the Emulate human Liver-Chip in the lead optimization phase of their drug development pipeline, where projects typically identify three to five chemical compounds that have the potential to become a candidate drug. By doing so, a chemical compound that produced a toxic signal in the Emulate human Liver-Chip could be deprioritized from early in vivo studies, thus reducing animal testing, and permitting safer candidates to progress through the development pipeline. With safer candidates progressing to the clinic, you can have greater confidence that a viable candidate drug will not be deprioritized due to a false positive.

$3B in Productivity = Value, Improved
Improving the ability to detect hepatotoxicity with 87% sensitivity, broad adoption of the Emulate human Liver-Chip could increase research and development productivity by $3 billion dollars on an annual basis for the small molecule drug development industry. Routine use of Organ-Chips to assess cardiovascular, neurological, immunological, and gastrointestinal small molecule toxicities could similarly generate approximately $24 billion dollars per year due to increased research and development productivity.
See What People Are Saying About the Landmark
Communications Medicine
Publication
How Human Biology + Technology Can Ignite a New Era in Human Health
Are you ready for best-in-class predictive power? Contact us today.