The Colon Intestine-Chip Grant Program
How would you advance your research with Organs-on-Chips technology?
Applications are now closed

—the winner will be announced by August 15th.
Across many areas of colon research, the ability to faithfully model human biology has been hampered by the limitations of traditional cell culture—cell line models typically omit critical cell types, and static cell culture does not recreate the colon-specific microenvironment and mechanical forces that cells experience inside the human body.
At Emulate, we have developed a more human-relevant colon model, combining organoids and Organs-on-Chips technology to more faithfully recreate human biology. The Colon Intestine-Chip Grant Program will offer one researcher the hardware, chips, cells, and scientific support needed to get started using Organs-on-Chips technology for colon research. If you're looking to increase the human relevance of your colon research, uncover new insights, and interrogate questions that may not be possible with conventional cell culture, learn more about the Colon Intestine-Chip and apply below.
About the Colon Intestine-Chip
The most comprehensive commercially-available in vitro model of the human colonic epithelial-endothelial interface for preclinical research. The unique combination of organoid-derived epithelium, colon-specific endothelium and mechanical forces delivered by Organs-on-Chips technology enables researchers to discover new biology, study mechanisms of epithelial barrier homeostasis and disruption, evaluate therapeutic efficacy, and more.

Learn more about the Colon Intestine-Chip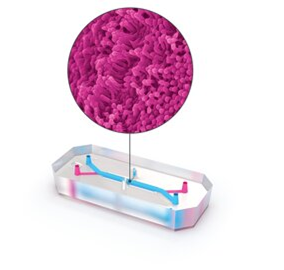 We'll Get You Started.
One grant winner will be selected and receive over $130,000 of equipment, including the essential hardware, chips, validated cells, and scientific support to get started using Organs-on-Chips technology:
1 Zoë® Culture Module—automates flow & stretch for up to 12 Organ-Chips

1 Orb® Hub Module—provides gas, power, and stretch to up to four Zoë Culture Modules.

3-pack Training Kit—for onboarding training.

Virtual installation guidance & scientific training.

2 x 12-Pack Colon Intestine-Chip Bio-Kits. Each kit contains:

15 Chip S-1® Stretchable Chips

12 Pod® Portable Modules

Biopsy-derived primary human colonic organoids*

Primary human colonic microvascular endothelial cells*

Chip activation reagents
*Note: the grant winner may elect to use their own cell sourcing if preferred.
Looking for Inspiration?
We have you covered with a range of resources to learn more about the Colon Intestine-Chip and how other researchers are using the model to advance their research. Visit the Emulate colon webpage to learn more about the model itself, and check out peer reviewed publications to see how researchers are using Organs-on-Chips to uncover novel insights on the microbiome, E. coli pathogenesis, the role of mechanical forces on infection, and more.
The Fine Print
Eligibility:

Employment: Grant applicant must be actively employed or enrolled at a company or institution in a role in which they perform cell biology research. Applicants are subject to certain further eligibility requirements set forth below.
Customer status: Applicant must not be a current user of the Emulate Human Emulation System® at their lab of employment.
Location: Product will only be shipped to the United States, Canada, European Union, United Kingdom, or Switzerland.
Lab Equipment: applicant must have lab equipment required to perform Organ-Chip studies, including:


Biosafety cabinet

CO2 incubator

Bright field microscope (working distance ≥41.5 mm)

Centrifuge (for 15 and 50 mL conical tubes)

Vacuum pump
Publication of Project Results:
Upon completing the research project, the grant winner agrees to participate in at least one of the following activities with Emulate relating to the data generated using the grant equipment and Organ-Chips: joint poster presentation, case study, blog post, or webinar.

The grant winner agrees that Emulate will have the right to publicly announce the grant winner's name and research project focus, and use anonymized data generated as part of the grant program for marketing material.
See full Terms & Conditions